One-Way Trailer Rental
February 1st, 2016 - 9:30 AM
Considering trailer rentals for your move?
If you're trying to find trailers for rent to move your household goods long distance, U-Pack®one-way trailer rental is a great option.  And though it may work a little differently than what you initially had in mind, we think you'll find that it's a much safer and more convenient option. Take a look at our moving trailer and what makes it the better way to move.


How does U-Pack trailer rental work?
You're probably picturing a traditional rental trailer that hitches to your vehicle to be pulled.  But we've changed the game! Instead of pulling a rented trailer one-way across the country, U-Pack sends a trailer to your location, you load it, and then we pick it up and deliver to your new home.
And the best part? Space in the trailer is flexible. Take all the room you need to load your belongings, and pay only for the space you use.
What type of trailers for rent does U-Pack provide?
Most companies offer either utility (open-air) trailers or cargo (enclosed) trailers in various sizes. We have something a little different than the kind you tow behind your vehicle – moving trailers.
If you move with U-Pack, the trailer that comes to your home is 28 feet x 8 feet x 9 feet. It'll look something like this: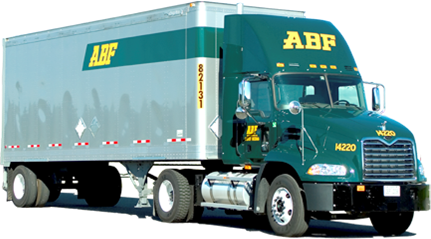 If you thought "whoa, that's too big," don't panic. Let me explain a little more about how U-Pack one-way trailer rental works.
We drop off an empty trailer for loading, and you use the space you need. We divide the trailer into linear feet, which are one-foot long "slices" of the trailer. There's a 5 linear foot minimum, which equates to about one room of furnishings. Use as little as 5 linear feet, or up to the whole 28-foot trailer. Your rate is based on the space you use. Use our space estimators to see how much space your items will need.
We provide a ramp to make loading easy, and you'll have up to three business days to load.
Once you finish loading, take the secure divider wall we provide and place it at the end of your shipment for privacy. We take the remaining empty space in the trailer and fill it with commercial goods headed in the same direction, which saves you money! Rest easy knowing your shipment is the only household goods shipment in the trailer. Once you load, your belongings don't move until you unload them.
We deliver the trailer to your new home, with three more business days available for unloading.
Is U-Pack trailer rental right for my move?
The flexibility makes U-Pack a great option for both small and large moves. We eliminate the stress of trying to choose the right size trailer (not to mention towing it). And since we deliver door to door, you're free to travel to your new home however you want. This way, you can fly to your destination, or make the drive in your personal vehicle without having to worry about towing a trailer behind through large cities or mountainous areas.
Another U-Pack benefit is not having to worry about trailer sway since we handle the driving. If you haven't heard of trailer sway, it's a good idea to read about it before you consider renting a trailer to pull behind your vehicle. Find helpful information about trailer sway here.
Concerned about parking your rental trailer?
If you're not sure about parking the U-Pack trailer at your home or apartment, we can help. Keep in mind that the trailer needs about 40 feet of length for drop-off and pick-up (once you add in the tractor to pull it), which is about 2-3 car lengths. The trailer can be parked on solid surfaces like pavement or hard-packed gravel. You can park it in your driveway, in a parking lot, or on the street (check for any required permits from your landlord, HOA, or city).
If you simply don't have room to park the trailer, we also offer smaller moving containers called ReloCubes that fit into a standard parking space. Use one Cube or multiple Cubes to move your belongings. With options to fit just about any situation, we're confident we can help with your move, too!
Want to see the U-Pack trailer in action?
While you're researching, check out this video to see how moving in a trailer works:
How much does trailer rental cost?
Most people moving long distance find that U-Pack rates are very competitive with traditional trailer rentals, especially when you factor in fuel and drive time. The convenience of not having to drive and tow a trailer combined with a reasonable price definitely makes U-Pack worth looking in to.
If you think U-Pack might be a good option, getting a quote for a U-Pack one-way trailer move is easy. Just enter the cities (or zip codes) you're moving from and to, when you're moving, and how much you're moving (estimates are fine), and we'll show a price instantly.
If you have any questions our one-way trailer rental services, feel free to leave a comment below.
Check out these resources for more information about U-Pack trailers:
U-Pack trailer details and specifications
The inside scoop on moving trailers