Finding a Moving Company in Your State
Whether you're relocating to a neighboring state or clear across the country, it helps to use a moving company with experience in each location. Different cities and states can have unique circumstances for a move, but local experts will know what to expect. 
U-Pack® has more than 240 service centers throughout the U.S., and we understand the residential moving requirements in the areas we service. So, if you're headed to a major city with limited parking or a quaint town with historic streets, you won't have to worry about what to do! We've got the solutions and experience to help you through it.
U-Pack Service Area
U-Pack provides long-distance moving services in all 50 states, Canada and Puerto Rico. No matter where you're moving, we can help! Learn more about coverage in your area by using the search box or map below: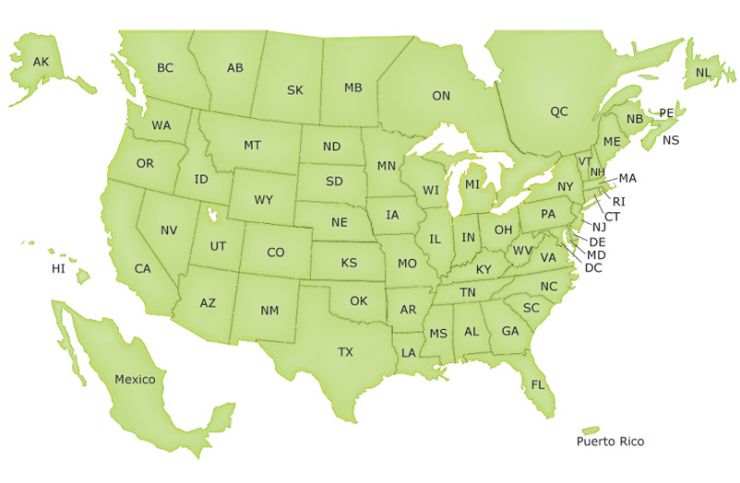 Explore the U-Pack Coverage Area:
Alabama | Alaska | Arizona | Arkansas | California | Colorado
Connecticut | Delaware | DC | Florida | Georgia | Hawaii
Idaho | Illinois | Indiana | Iowa | Kansas | Kentucky
Louisiana | Maine | Maryland | Massachusetts | Michigan | Minnesota
Mississippi | Missouri | Montana | Nebraska | Nevada | New Hampshire
New Jersey | New Mexico | New York | North Carolina | North Dakota | Ohio
Oklahoma | Oregon | Pennsylvania | Rhode Island | South Carolina | South Dakota
Tennessee | Texas | Utah | Vermont | Virginia | Washington
West Virginia | Wisconsin | Wyoming | Puerto Rico | Alberta | British Columbia
Manitoba | Ontario | New Brunswick | Nova Scotia | Prince Edward Island
Saskatchewan | Newfoundland & Labrador | Quebec | Mexico
Cities, States and Towns — Oh My!
After more than 1 million moves, we've learned a few things about the unique and exciting places our customers move to. Take a look at some of the info we've learned over the years:    
Fun Facts about States
Most people know that the Wright brothers flew their first airplane in North Carolina and that New Mexico is known for a UFO sighting. But did you know that Arkansas (where U-Pack is headquartered) is home to the only active diamond mind in the U.S.? Or that more Spam® is eaten in Hawaii than in any other state?
While it's not necessary to know everything about a new location, it can be fun to learn some facts before you move! Check out these articles for more state-related trivia:
Best Places to Live in the U.S.
Not sure where you want to move to yet? Or just dreaming about a destination far away from your current location? We've got you covered with these helpful guides:
Where are People Moving?
According to the United States Census Bureau, Florida, Texas, California, North Carolina, New York and Georgia had the most people move there from out of state in 2017. In fact, more than 500,000 people moved to Florida from a different state that year!
Explore popular state-to-state moves here and learn what to expect after relocating.