U-Pack has handled more than 1 million household moves since 1997. Over time and with experience, we've learned that each customer has a story and every story is unique. This summer, we followed four customers as they packed up their lives and moved across the country. Each experienced the emotional highs and lows of moving in a different way, but they all had one thing in common — their journey to a new home marked a new beginning. To celebrate 20 years of helping people move, we thought we would surprise them with something big to start their next chapter.
Helping hundreds of customers each day means we hear many different reasons for moving. Some people move for work, like Mark and Bethany. Charles and Marjorie moved to be closer to family. Esther moved to further her education, and Chante and Anthony relocated to begin their lives together in a new place. What we've learned from 20 years and over 1 million customers is that no matter why you're moving or what you leave behind, there's always something to look forward to in the next chapter.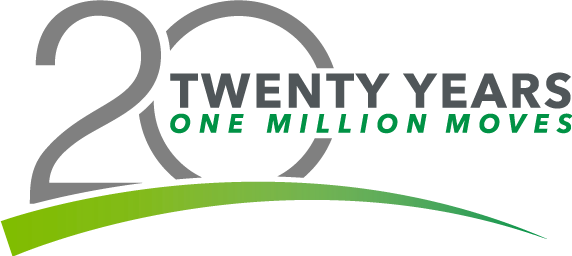 We're celebrating this milestone by telling some of our customers' stories, but U-Pack has a pretty cool story, too. Learn more about where we started, where we've been and where we're going.
U-Pack History
The first U-Pack moves were basic — customers loaded their belongings into a moving trailer and built their own security divider to mark where their shipment stopped inside the trailer. Because our self-moving option quickly grew in popularity, we started looking for ways to improve and expand our services. We began providing security dividers and loading ramps with each trailer, offered online quotes and the ability to reserve a move online, and introduced an innovative portable storage option with the debut of ReloCube® moving containers. After 10 years of moving experience, we launched the U-Pack blog to start sharing our knowledge through moving tips and other helpful information. And in the past few years, we've worked hard to improve customer experience through the MyMove dashboard and a mobile-friendly website.
Here's what's happened in the last 20 years:
First U-Pack Move
After months of planning and development, our first customer moved in October 1997.
Security Dividers Offered
The first U-Pack customers built their own privacy panels; we began providing them for customers to improve our service.
Loading Ramps Provided
Though the first ramps were offered at an additional charge, we soon provided them for free.
Online Quotes and Reservations Introduced
First ReloCube Move
We listened to our customers and introduced an innovative moving container option, perfect for small moves or parking at an apartment complex.
ReloCube Storage Offered
Portable storage is the perfect complement to the convenience of moving containers, so we added that to our service lineup.
Trailer Storage Offered
We continued to expand our storage options to include large move solutions.
Moving Box and Supply Store Launched
Mobile-Friendly Website Developed
We redesigned our website to accommodate heavy mobile phone usage.
MyMove Dashboard Introduced
With technology at everyone's fingertips, we developed on online platform for managing your U-Pack move.
We're excited to make one of life's most stressful events easier for the next million customers, and look forward to finding ways to improve their experience even more in the years to come. If you find yourself starting a next chapter, we're here to help.