Gas Price Estimator for Moving Trucks
Finding fuel costs for a U-Haul®, Penske®, or Budget® truck is simple with this gas price calculator! No math skills required — just enter your locations and click "Calculate":
This easy-to-use tool is a quick way to discover the impact fuel will have on the price of your move. Add this cost to your truck rental rate (along with fees like taxes and damage protection) to make sure your long-distance move won't break the bank.
Calculating Fuel Costs
To calculate gas cost manually:
Divide the total trip miles (don't forget to add extra miles for stops) by the truck MPG
Multiply that amount by the average gas price
For example, if you expect to drive 850 miles in a truck that gets 10 miles to the gallon, and gas costs $2.50 on average, you should budget $212.50 for gas.
Watch this video to learn more:
Rental Truck Gas Mileage
Use the charts below to find the average gas mileage of rental trucks from different companies: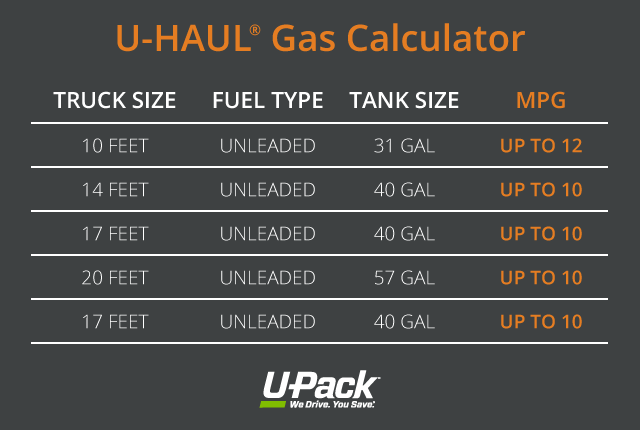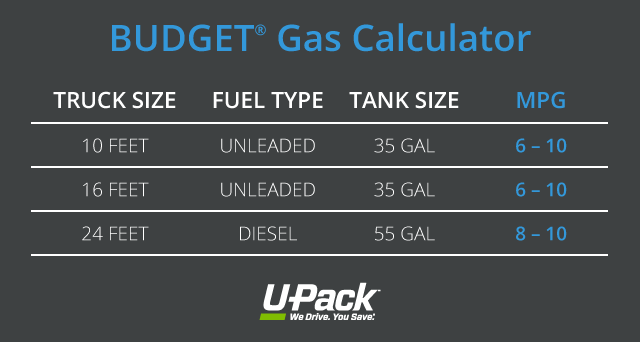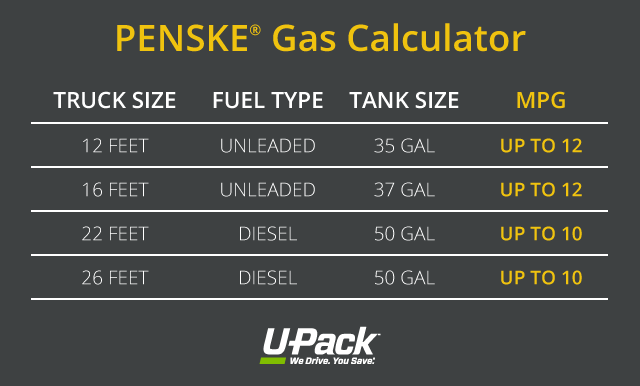 Don't Pay Extra for Fuel — Go U-Pack!
When you move long distance, U-Pack prices are often comparable to renting a truck. U-Pack handles the driving and our rates include fees like taxes and fuel! Get a free moving quote online.
U-Haul® is a registered trademark of U-Haul International, Inc. Budget® is a registered trademark of Budget Truck Rental, LLC. Penske® is a registered trademark of Penske Truck Leasing Co., L.P. Use of third-party trademarks or registered trademarks does not imply any affiliation with or endorsement by such third-party.