How to Move Appliances
July 17th, 2013 - 3:37 PM
Tips for Moving Appliances
Back when I lived in an apartment, I saw a terrible situation unfold as new neighbors moved in. When they began unloading their moving truck everyone noticed an absolutely awful stench. It took a little digging, but they eventually figured out that it was coming from some of their appliances. Unbelievably, they left wet laundry in the washer and dirty dishes in the dishwasher – and apparently it had been there a while. When I say the smell was horrible, that's no exaggeration. And when I say I was incredibly thankful that I didn't have to be involved in the clean-up, that's no exaggeration either.
If only they had searched for tips for how to move appliances before they moved…
Of course, I'm confident you wouldn't do anything like that, but as you know, appliances are large and bulky, and some have very specific requirements for moving. U-Pack's moving experts have some great tips for moving them that I would love to share! These will be especially helpful if you're planning to save money by doing a "you pack, we drive" self-move!
How to Move Large Appliances

Big appliances can be cumbersome to move. Here are some ways to make sure they stay in good shape while you're moving them across the country. These tips should work for dryers, dishwashers, stoves, and most other large appliances (check out these detailed posts about how to move a washer and how to move a refrigerator).
Measure doorways to ensure the appliance will fit through (you may need to remove doors or door frames).
Unplug and unhook the appliance based on the manufacturer's instructions (if you don't have the original instruction book, you may be able to find one at Apliance411).
Slide a piece of cardboard underneath it (this makes it much easier to scoot it away from the wall). You'll need help with this.
Slide the appliance away from the wall.
Clean and dry the appliance (based on manufacturer instructions).
Zip-tie cords and tape them to the back of the appliance to keep everything tangle free.
Cover the appliance with furniture pads, paper padding or stretch wrap to protect it and the walls/door frames from scratches when being moved.
Place a dolly or hand truck under the appliance (you'll need help with this!).
Strap the appliance to the dolly to make sure it stays secure while being moved.
Move the appliance outside, taking care through doorways and thresholds.
Load it in the moving trailer or container and take care to secure it well using rope or straps.
That's not so bad, right? The hardest part is probably getting it away from the wall, but the cardboard trick should help a lot!  
How to Move Small Appliances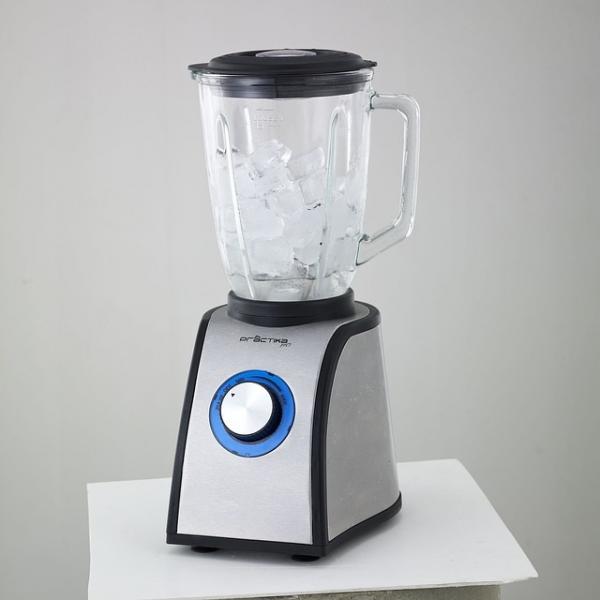 If you're moving small appliances, like a microwave, blender, or food processor, it is best to pack it in it's original box. I know that's not always realistic (who keeps those boxes), but if you do happen to have the originals (including packaging), just box it up. If not, follow these directions.
Wrap your small appliance using packing paper or bubble wrap – with extra care if it's breakable.
Prepare the box. Fill the bottom with crushed packing paper to provide cushioning.
Place the appliance in the moving box. You can place multiple items in a box; just make sure that it's not overloaded. We recommend keeping box weight under 40 lbs. Small or medium boxes are usually best for packing small appliances.  
Fill any gaps with crushed packing paper. Make sure it's a snug fit. Boxes shouldn't rattle with a gentle shake, and the top should close easily without caving in or bowing out.
Tape the box well. We recommend taping all seams.
Label box "Kitchen Appliances," and write "Fragile" on the box if necessary.
What if I don't want to move my appliances?
If you have older appliances it may make more sense to sell or donate them than move them. Here are some things to consider if getting rid of your appliances seems like the better option:
If your appliance is in working condition, you may consider selling it locally, perhaps through the local newspaper classifieds, online classifieds or Craigslist.
Consider taking it to an appliance resale store. They may want to consign it (meaning you don't get paid until it sells), or they may want to buy it outright. Search online or in your yellow pages for the "Appliances-used" category and call around.
You may also want to donate your appliances. Places like Habitat for Humanity or the Salvation Army will often take appliances. Many of them will even pick them up. Just remember to get a receipt for tax purposes!
If you don't want to go through the trouble of selling it, and it's not worth donating or moving, you may want to set it out at the curb with a "FREE!" sign (if that's allowed in your neighborhood). Someone may want it for parts.
If you're moving household goods and appliances across the country, and searching for an affordable way to do it, U-Pack Moving is a great solution! You get prices that compare to truck rental, but you don't have to drive the truck! Get a free moving quote from U-Pack in just a few clicks! It's a great way to move and save money doing it.
If you have additional questions about packing appliances or moving with U-Pack, please let us know. We're happy to help!
More resources related to How to Pack Appliances
The complete beginner's guide to packing
Packing for a long distance move"
How to pack a TV
How to pack electronics
How to move an aquarium
How to pack and store photos
How to move a pool table
How to pack dishes
How to pack collectibles