Load it. Lock it. Keep the key.
Here's how it works:
We'll deliver the container right to your door.
You load it.
We'll pick it up and drive to your new location.
You unload it.
Need storage? We can do that, too!
Reserve one ReloCube, or as many as you think you'll need - then pay only for the Cubes you actually use. That's a perk U-Pack customers rave about.
Get a free moving quote today!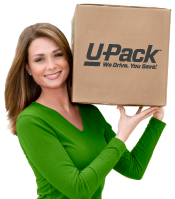 "It was such a relief to use a moving company with such exceptional customer service. It seems to be a rare find these days. Thank you!"
Holly R. Riverside, CA